Meanwhile on the Brembo front...
---
Aprilia RiderSite (Riders Site) - The independent & international community website for Aprilia motorcycle riders with chat, discussion forums and much more: Falco SL1000: Meanwhile on the Brembo front...
---
<!-Post: 16541-!><!-Time: 1036980607-!>

<!-Text-!>

... I'll be servicing the front brake calipers today as they're sticking...again!



Will keep you posted.


<!-/Text-!>
<!-/Post: 16541-!> <!-Post: 16558-!><!-Time: 1037002599-!>
<!-Text-!>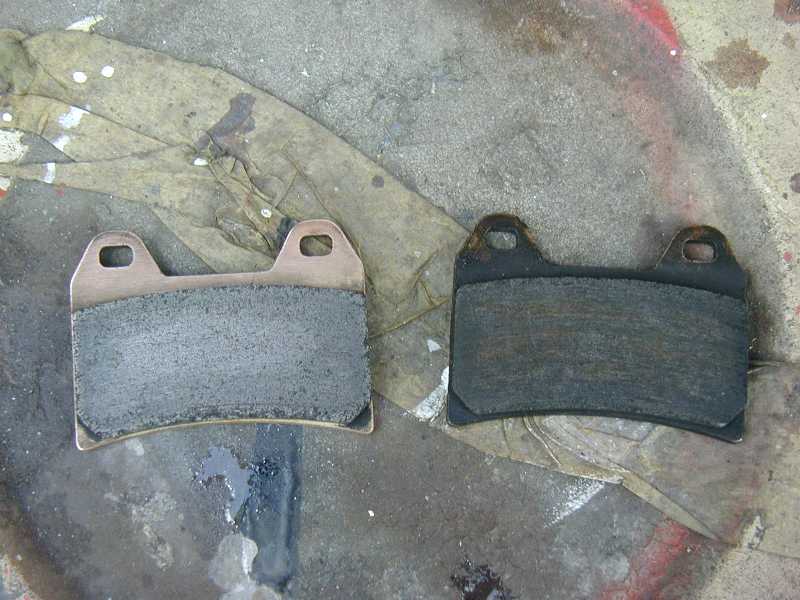 Note the right front piston hasn't been cleaned from all the crud it's been collecting over the years. The other ones have. They all have one or two pits in them if you look closely.


I found these scuff marks inside both calipers. Could be it's not the pistons but the pads that were sticking. EBC HH btw.
Thought I'd file the pads down just a tad. And apply some cupper grease just there.


I cleaned the calipers and pistons thouroughly but didn't change any of the O-rings. They looked fine after cleaning. I then applied brake piston paste to all the pistons and the O-rings before re-assembling.


Bleeding went fine as there is a master cylinder bleeding screw.

Went for a test run afterwards but the bike had been cleaned and so it always takes a few days for the brakes to work properly. Don't blame me, I never had it that bad with the old Thundercat. Must be an Italian thing again.



Btw, they done't seem to be sticking now.<!-/Text-!>
<!-/Post: 16558-!> <!-Post: 16566-!><!-Time: 1037004928-!>
<!-Text-!>Cool! If your back from your run I guess you remembered everything



I tried your suggested test for a binding front but everything seems fine, looks like it was the pads eh? What were the pins like? If they were really worn the pads would have more movement, but my guess is that's unlikely, probably just pads at the upper limit of tolerances.

Have you replaced the brake lines too or just the bolts?<!-/Text-!>
<!-/Post: 16566-!> <!-Post: 16569-!><!-Time: 1037007654-!>
<!-Text-!>Bef, think you take the award for the worst looking calipers... and I thought mine were bad!



Seriously though.. each time I've changed a set of pads (CLs don't count cos they got removed quickly) I've made sure that I cleaned the caliper up with brake cleaner and copper greased the correct bits. I usually pump the pistions out a way without the pads out to make sure that I can clean as much of the piston as possible. An old toothbrush works wonders...

The rear caliper really takes a hammering from roadcrap due to its position.. it got treated to the same cleaning as the front ones usually do when I replaced the rear EBC-HHs recently.<!-/Text-!>
<!-/Post: 16569-!> <!-Post: 16571-!><!-Time: 1037009541-!>
<!-Text-!>Scotty,

Don't use copper grease on the pistons themselves! It'll help the piston seals disintegrate! You want proper brake grease you do!


B<!-/Text-!>
<!-/Post: 16571-!> <!-Post: 16573-!><!-Time: 1037010823-!>
<!-Text-!>Ben... don't worry there's no copper grease anywhere near the pistons mate...


When I says 'bits' I really mean pins cos they corrode to f*ck..<!-/Text-!>
<!-/Post: 16573-!> <!-Post: 16574-!><!-Time: 1037012351-!>
<!-Text-!>

Hehe, two winters of salt and the third one on the way.

Dave, didn't replace any bolts or anything. The red bolt is just one I had lying around. Looks nice on photo, doesn't it?


The pins had wear lines on them, but not so bad that you could feel them. So cleaned them and put copper grease on them as well so the pads can move freely.

Scotty, what Wim did after Rockingham is to pump out the pistons and apply large amounts of WD40. It freed (free-ed?, free'd?) up the pistons wonderfully, but since the brakes were sticking again recently, I thought I'd do it myself and take more time this time. After all, winter's on its way.



The rear caliper still works great, so I decided to leave that one alone. If it ain't broken, etc..



<!-/Text-!>
<!-/Post: 16574-!> <!-End-!>
---