Tank Bags
---
Aprilia RiderSite (Riders Site) - The independent & international community website for Aprilia motorcycle riders with chat, discussion forums and much more: Falco SL1000: Tank Bags
---
<!-Post: 15966-!><!-Time: 1036036818-!>

<!-Text-!>Does anyone recommed a particular type of tank bag for the falco? how much? where from? etc..


cheers<!-/Text-!>
<!-/Post: 15966-!> <!-Post: 15971-!><!-Time: 1036042190-!>
<!-Text-!>I use a tank cover+bag and rear bag from Bagster.
You can get it color matched with -2000 : Red, Blue, Black and 2001- : Silver, Yellow.
The rear bag (named Whoppa) is fixed with zips on each side of the pilion seat, and when the bag is removed all you see is 1/4" of the zips. Very snug and scratch protected.
All parts got a nice thight fit and works superbly! Even in speed way above 200 km/h!



My bike with Bagster bags on: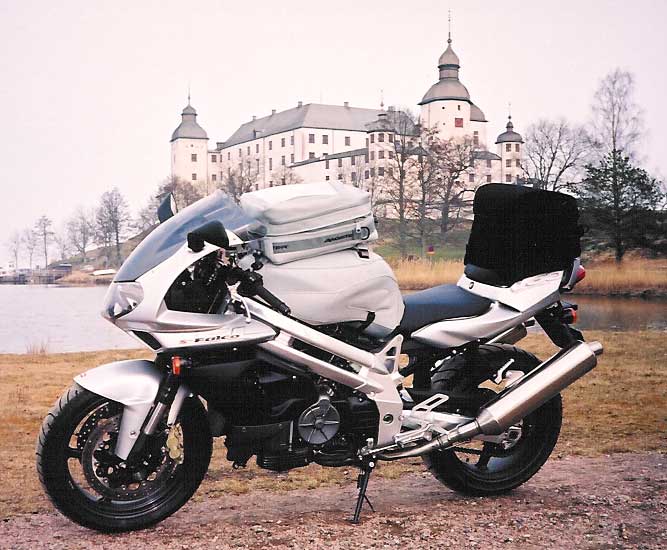 My bike with Bagster bags off, note the zip underneath the pillionseat cowl, if you can:

<!-/Text-!>
<!-/Post: 15971-!> <!-Post: 16034-!><!-Time: 1036137679-!>
<!-Text-!>That's amazing! Your tailpack must have been really heavy because in the second picture your exhausts have come up a hell of a lot.

Dean

<!-/Text-!>
<!-/Post: 16034-!> <!-Post: 16151-!><!-Time: 1036372104-!>
<!-Text-!>I've got a Bagster tank cover with Bagster Alpha bag for the Falco which I might sell, it's only been used once for a trip to Spain.
Cover and bag are all black, cost £150, would sell for £100 if you'r interested then E-mail me, fraserhorspool@aol.com.<!-/Text-!>
<!-/Post: 16151-!> <!-End-!>
---