Australian GP Trip....very long and lot's of piccies.....
---
Aprilia RiderSite (Riders Site) - The independent & international community website for Aprilia motorcycle riders with chat, discussion forums and much more: Falco SL1000: Australian GP Trip....very long and lot's of piccies.....
---
<!-Post: 15594-!><!-Time: 1035400185-!>

<!-Text-!>Well here goes, quite a long winded story:

Our trip to the Island, started on Tuesday with a bright sunny day, and as we headed out (my friend was on a TDM850, as the other 2 of 3 riders left the day before). The plan to travel via as many twisty, and winding roads we could find between Sydney and Phillip Island in 4 days.

Our first day comprised of 700kms of some of the best roads for bikes in NSW. To those in the know, that meant the National Park (along the coast) just south Sydney, then up McQuarie Pass, away from the coast, (30kms of switchbacks and curves - magic it was!), then down through a valley back towards the coast, called Kangaroo Valley, down to Bega and up another mountain called Brown Mountain, 100kms of sweepers, switchbacks and eventually along the high plains to a place called Cooma and through into Jindabyne, the doorway to our Snowy Mountains, with snow still on the highest peaks. An absolutely superb days ride. We got a shower of rain 5 mins before our final destination for the night.

The second day dawned, cool but fine, and we headed up through the high plains of the Snowy mountains, and past our highest mountain in Australia called Mt Kosiusko (spelling?). After the highest road point we headed down the other side of the mountain and into a valley teaming with lush growth, and lots of wildlife (the 3 emus we passed on the road, we clocked at 45kms/h). I certainly wouldn't want to hit one of them at high spedd, and are just a bit smaller than an Ostrich.

This road was 70kms of twists, sweepers, and switchbacks from 140kph, back down to 40kph at various spots as it meandered through the valley.

We eventually came out in Northern Victoria, and headed for the open planes of a wine district called Rutherglen, where we sampled sokme fine red wines at around lunch time.

We asked the locals the best roads to travel, and we wound the bikes up to 220kmh laden with gear. The Falco proving just how stable a bike it can be with the Aprilia soft luggage. Stopped at a micro brewery out in the middle of nowhere called Buffalo Brewery, and sampled some of his finest. A man after my own home brewing heart.

We then continued, to meander through valleys via again the best back roads we could find. The Falco was as stable and comfortable as ever with the Ohlins rear. Never once stepping out unpredictably. We arrived at our second day stop at a place called Broadford (600kms for the day), which is only 150kms away from Phillip Island but we still had 2days of travel to get there.

Third day dawned a bit cloudy and the raods were a bit damp from rain overnight, but we still paced ourselves, at the 120kph mark or thereabouts, through places which are revered by the Melbourne riders called Mt Macedon, Daylesford, and then into Ballarat (an old Gold mining town from the mid 1800's) which is now a thriving country metropolis.

Then we started to head towards another mecca of bike riding called the Great Ocean Road. We stopped at a town called Colac, and went into the Tourist Information Centre and again asked the besst way to get to the GOR. The person w spoke to gave us 2 choices and said his second choice would be better. We agreed wholeheartedly. 130kms of flatout sweepers, down to the coast (almost then it came back up a mountain and into a place called Simpson Creek, and then back out to the GOR. Absolutely magic. We saw 2 cars in those 130kms.




We got to the GOR and proceeded to carve up the traffic, and eventually hit a place called Lavers Hill (known to Melbourne, Victorian riders) were we came across ambulances, and cops and a Helicopter, airlifting a motorcyclist out to a hospital. He'd decked it big time down the road. Bike a total writeoff.

We got down the road a short way, where we got caught up with cattle on the road. A 5 min stop, and lots of bikes queued up behind us. I noticed a quick break in the cattle along with a guy on a 906 Paso, so went for it through them all. My friend got held up a few extra minutes. The Paso pulled over a km down the road, so I just went for it on my own. 50 kms of some of the best roads anywhere in Australia, firstly down into a valley, allong the valley floor, then up another mountain, and through some old growth rainforests, and evetually down to the coast again. Some of the best roads in Autralia for motorcyclists. Who has time for the scenery when you have this magic road, a great bike etc, etc, etc......

Anyway along the coast to a ferry which takes you across Port Phillip Bay's mouth to the the Antarctic Ocean and onto the Mornington Peninsula for a nightly stopover, at a friends place. Another 680kms travelled for the day. We were only 2 hours behind the 2 guys who left the day before us 3 days ago in the end.

Friday we headed to the Island. picked up our Pit Passes, and enjoyed the action of Practice under fine skys. Into the pits for a look around, and who should pop round the corner....Caparossi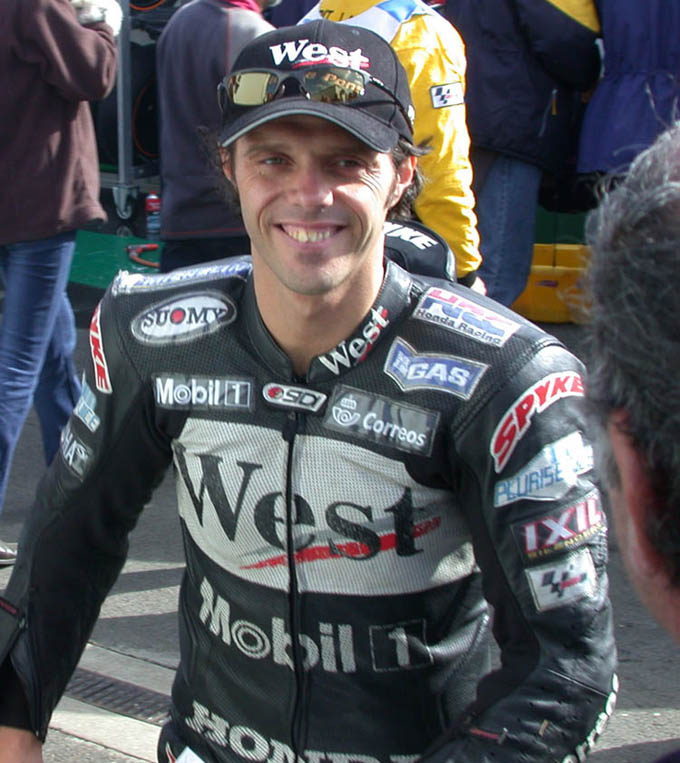 Saturday arrives again, fine skys, but a lot colder 17 Degrees C. And we find ourselves with pit lane passes this time......and here are some of the other pics

We end up in a restaurant Saturday night about 12 of us and who should be behind us, but Fonsi Nieto, a charming young gentleman, so we offer him a choice of rides to beat Melandri, the Falco, a Hyabusa, but he reckons he wouldn't get through scutineering with them.



Sunday dawns with the chance of rain, but it holds out for the day, thank goodness, although very cold none the less.

Fantastic racing in all classes.

Head back out Monday morning for Sydney via the back raods through Eastern Victoria, and then up into the Snowy mountains again, with the other riders, who just wanted to stop for Lates at every possible time. So I ended up heading of on my own. Spent the night in a Place called Albury for the night with my friends some 250kms behind. This time just headed up the highway and into home.

All up 3500kms, 7 days, great racing, Pit Lane access, lots to drink, great company, great roads, 4 cop cars only, etc, etc......and the Baehr Intercom for bike to bike chats is fantastic!

Tyres are totally shagged, with the front now some 5500kms old, and bald on the side. The back 3500kms, and squared off from the last 530km of Freeway riding.

Went to the local dealer and asked about 012ss Bridgestone, in a 180/55, and no stock in the country so I'm going to try the M1 Sportec's<!-/Text-!>
<!-/Post: 15594-!> <!-Post: 15595-!><!-Time: 1035400401-!>
<!-Text-!>More Pic's


<!-/Text-!>
<!-/Post: 15595-!> <!-Post: 15596-!><!-Time: 1035400507-!>
<!-Text-!>More Pic's


<!-/Text-!>
<!-/Post: 15596-!> <!-Post: 15597-!><!-Time: 1035401054-!>
<!-Text-!>And More


<!-/Text-!>
<!-/Post: 15597-!> <!-Post: 15599-!><!-Time: 1035404536-!>
<!-Text-!> Should also add that I caught up with Kerryc from this board, and a guy who he met on route from Alice Springs, a place in the middle of Australia, and got very pissed that night.

I saw 5 other Falco's 3 black one yellow an a silver one. About 20 RSV's from the original Red/Blue to a Haga Rep.

Saw a new RSV-R, but the black frame, and swingarm look shite. The Red std Tuono looked nice on the dealers stand at the Expo at PI. <!-/Text-!>
<!-/Post: 15599-!> <!-Post: 15636-!><!-Time: 1035442324-!>
<!-Text-!>Talk about jealous




There must be many cops there, man that would be nice! I can't go for a ride out in the country without seeing a cop, it never fails

<!-/Text-!>
<!-/Post: 15636-!> <!-Post: 15645-!><!-Time: 1035445337-!>
<!-Text-!>

Never mind the cops, what about emu's and cattle!


Boy oh boy, Ex, great pics as well. Your camera?

Awesome report! Thanks!


<!-/Text-!>
<!-/Post: 15645-!> <!-Post: 15651-!><!-Time: 1035447975-!>
<!-Text-!>Sitting here in the USA...

Very Jealous...

Scott
<!-/Text-!>
<!-/Post: 15651-!> <!-Post: 15662-!><!-Time: 1035458830-!>
<!-Text-!> Great report!

Thanks!

Brad <!-/Text-!>
<!-/Post: 15662-!> <!-Post: 15673-!><!-Time: 1035472083-!>
<!-Text-!>Thanks for reading it guys. The trip was well worth it, and not just for the roads travelled.

Twhowheels, we do have lots of police, it's just that we went as many back roads as possible!

Bef, the camera is a Nikon 995 digital camera with 3.32 megapixels, and has a rotatble lens. About $Aust1500.00.





<!-/Text-!>
<!-/Post: 15673-!> <!-Post: 15674-!><!-Time: 1035472863-!>
<!-Text-!>When I want to have some fun I ride the back roads too, but it never fails they always find me. They must be following me around, waiting for me to even think a bad thought \clipart(looks over shoulder) They're out to get me I tell ya


<!-/Text-!>
<!-/Post: 15674-!> <!-Post: 15675-!><!-Time: 1035478726-!>
<!-Text-!>Yeh, but you're country has 15 times the total population of our country!




So we can get "lost" more easily, in a country that almost fits into your's.



That's not to say we don't get poilced very heavily in certain areas.

Matbe you have a target on your back, saying "Book Me".

<!-/Text-!>
<!-/Post: 15675-!> <!-Post: 15690-!><!-Time: 1035508464-!>
<!-Text-!>Great read EDN, and fantastic pictures!!
<!-/Text-!>
<!-/Post: 15690-!> <!-Post: 15727-!><!-Time: 1035595966-!>
<!-Text-!> Ex,

Thanks for the read and pics. Very nice! Is it just me or maybe the angle of every pic I've seen of it, or is the Kaw one of the ugliest bikes ever built? <!-/Text-!>
<!-/Post: 15727-!> <!-Post: 15728-!><!-Time: 1035609895-!>
<!-Text-!>I second that! I would buy a Suduki long before a Kawasnatchy! (No offense to the ex-sv650 owners)

<!-/Text-!>
<!-/Post: 15728-!> <!-Post: 15737-!><!-Time: 1035663154-!>
<!-Text-!> Yes, in the flesh it is just as BUTT ugly, as it is in magazines! But it is afterall, a prototype, supposedly. It was quick in a straight line doing I think around 310 to Rossi's 317. <!-/Text-!>
<!-/Post: 15737-!> <!-Post: 15742-!><!-Time: 1035698905-!>
<!-Text-!> I'd buy the Suzi too, but because it's a V4 and I like that type of engine (and I don't care for L4s)
Other than that all the Japanese makers are the same to me, I'd buy the bike that I like and the brand wouldn't matter. <!-/Text-!>
<!-/Post: 15742-!> <!-End-!>
---