Tank mods
---
Aprilia RiderSite (Riders Site) - The independent & international community website for Aprilia motorcycle riders with chat, discussion forums and much more: Mille RSV1000 : Tank mods
---
<!-Post: 18153-!><!-Time: 1040982626-!>

<!-Text-!>With the Helibars placed where I like them the steering lock is very limited, I can't do a U-turn with honking and flashing the bright lights.
Everyone asks what me what do I want?? Lol!
I trimmed back the top outside edges of the tank, that gave me a couple of cms more room on each side. While I was at it I raised the tank a bit for air capacity, shaved off the hump in the back for comfort (it also allows me to seat an inch closer to the bars), added volume at the top of the tank to compensate and moved the gas cap to the top,all the way forward.
This is what the results look like, keep in mind that I was going for functiom, not looks.
The bike now feels a lot smaller, much better suited for my 1m68. The extra air helps the top end. The only drawback is that the weight is a little higher but with both the fuel and I being further forward it helps keep the front end well planted.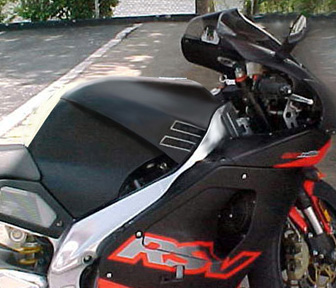 <!-/Text-!>
<!-/Post: 18153-!> <!-Post: 18162-!><!-Time: 1041014086-!>
<!-Text-!> You're a f*cking maniac! Right on, Dude! <!-/Text-!>
<!-/Post: 18162-!> <!-Post: 18175-!><!-Time: 1041068854-!>
<!-Text-!> Turn the cylinders around and down add some knobbly tyres and you've just re-invented the BMW 1150 GS. <!-/Text-!>
<!-/Post: 18175-!> <!-Post: 18176-!><!-Time: 1041072542-!>
<!-Text-!> Too bad that the only way that I could think of to reshape a resin tank is by melting it, next time I'll remember to empty the gas first. <!-/Text-!>
<!-/Post: 18176-!> <!-End-!>
---