Fresh paint
---
Aprilia RiderSite (Riders Site) - The independent & international community website for Aprilia motorcycle riders with chat, discussion forums and much more: Mille RSV1000 : Fresh paint
---
<!-Post: 11965-!><!-Time: 1028100839-!>

<!-Text-!>C:\My Documents?
New paint Scheme.jpg<!-/Text-!>
<!-/Post: 11965-!> <!-Post: 11973-!><!-Time: 1028101714-!>
<!-Text-!> Second time that the image makes it but the text got lost! grrrr

Two weeks go I was daydreaming (I'm a total menace at low speeds) and never noticed that the traffic stopped. I hit the binders like a newbie, the front BT012 gripped rather than wash out and I got thrown off sideways (loud FLOP).
I rode the bike to the dealer, a half hour of bumper to bumper traffic and when I got there I realised that the bike did a lot better than I did.
One broken turn signal, a bent brake pedal and light scratches. Me, I have 7 broken ribs on top of the usual road rash, at 51 I'm getting to old for this crap!

Ok, so I could sand and touch -the bike, not me-or I could get my 01 flat black painted this way.
The look that I'm going for is one that Aprilia "could" have done, but never offered:
-The front hugger, lower fairing and underskirt stay red.
-the tail, botttom of the tank and the side scoops remain flat black.
-the head fairing, side panels and most of the tank is painted silver.
What do you guys think? I like it but I don't want to end up with a bike that no one will want to buy later on.
Thanks <!-/Text-!>
<!-/Post: 11973-!> <!-Post: 12006-!><!-Time: 1028117865-!>
<!-Text-!>Geo, I am not sure. I don't dislike nor like really.

Let me add my mishap(s). Some cheeky prick in Holland at the weekend knocked my bike onto my mates R6 damaging the tank, wing mirror and side fairings. His bike then fell on my bosses' Honda Super Blackbird causing a shedload of damage. My bike has scratches down the right side and broken right indicator.

Not content with that I thought I put the sidestand down and stepped away from the bike and it fell to the left - breaking the other indicator, snapping the clutch lever and scratching the fairing.



Does anyone know where I can get the paintwork sorted at a sensible price ? I will buy the original Aprilia decals at their highwayman prices. Anyone know how much that is ? My bet is 30 pieces of gold.

For your info I got the indicators for £19 + vat each and the lever for £60 + vat i think from Speedaway, Birmingham.

Geo, either way your taste in bike is remarkable.



Kevin<!-/Text-!>
<!-/Post: 12006-!> <!-Post: 12022-!><!-Time: 1028137795-!>
<!-Text-!> I got equal amounts of " I like", " I hate" and "not sure" from my friends.
I can't tell you where to get yours fixed, i'm in Miami. In my case I got the best price: a friend will do it for free, he's an exec by day and loves working on the bikes on his time off. I saw the custom job he did on his bike and it was meticulous!
Geo <!-/Text-!>
<!-/Post: 12022-!> <!-Post: 12023-!><!-Time: 1028141192-!>
<!-Text-!> I love it. Looks great.
I just got a new RSV and stipped of the decals and painted the lower fairing blue (Same as the rest of the bike). Your idea looks hot.

Scott <!-/Text-!>
<!-/Post: 12023-!> <!-Post: 12024-!><!-Time: 1028141953-!>
<!-Text-!>Yeah I peeled off practically all the decals off my bike too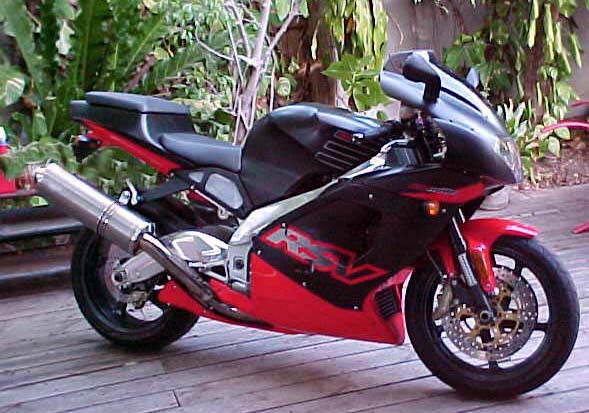 <!-/Text-!>
<!-/Post: 12024-!> <!-Post: 12060-!><!-Time: 1028177459-!>
<!-Text-!> Come on guys, only one Yay and one Nay? I don't remember this group having a shortage of opinions before.
Look at the first pix :
If you were on the market for a used RSV, would this be a bike that you'd consider buying or would you pass ?
Geo <!-/Text-!>
<!-/Post: 12060-!> <!-Post: 12062-!><!-Time: 1028178461-!>
<!-Text-!>Dont like the design TBH.

You want a nice holographic pearl black all over you do! ...with Stealth headlight grill of course!<!-/Text-!>
<!-/Post: 12062-!> <!-Post: 12093-!><!-Time: 1028191175-!>
<!-Text-!> Black hu?
No thanks, with the Florida sun being what is I've been boiling my b.... on that barbeque-black tank!
One Yay
one "not like or dislike"
one Nay
I know how Terreblanche feels this days!
G <!-/Text-!>
<!-/Post: 12093-!> <!-Post: 12096-!><!-Time: 1028191317-!>
<!-Text-!>I like it. It looks like a paint-scheme that Aprilia could have come up with themselves.

Saying that, I do prefer the metallic candy red the Falco comes in...



B<!-/Text-!>
<!-/Post: 12096-!> <!-Post: 12225-!><!-Time: 1028490788-!>
<!-Text-!>Yep.....I'd buy it! How much?

<!-/Text-!>
<!-/Post: 12225-!> <!-Post: 12282-!><!-Time: 1028614424-!>
<!-Text-!> Me to,I'd buy it, if I was in the market for one, but I aint. look's Good. <!-/Text-!>
<!-/Post: 12282-!> <!-End-!>
---