SM piccies for SCREEECH!!!
---
Aprilia RiderSite (Riders Site) - The independent & international community website for Aprilia motorcycle riders with chat, discussion forums and much more: General Aprilia Chat: SM piccies for SCREEECH!!!
---
<!-Post: 18048-!><!-Time: 1040457191-!>

<!-Text-!>

SM meaning SuperMotard of course.


Now that I've finally sorted the scanner, I've taken the liberty of providing you (all) with some images.
Here goes:



Wim's son Wout is on the ex-factory KTM with # 166.



That didn't take long, did it?



This guy was the leader for the first few laps.



Wout in action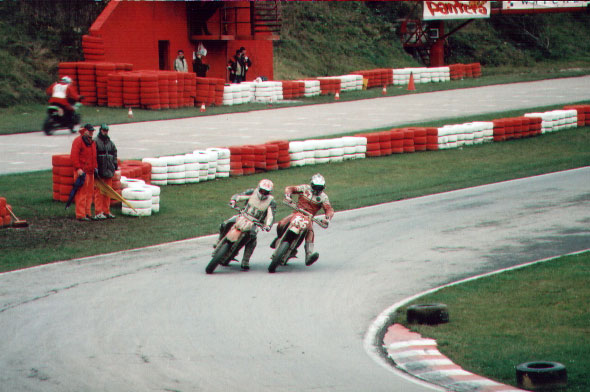 And here's my personal favourite race

<!-/Text-!>
<!-/Post: 18048-!> <!-Post: 18049-!><!-Time: 1040457386-!>
<!-Text-!>

Forgot this one

<!-/Text-!>
<!-/Post: 18049-!> <!-Post: 18061-!><!-Time: 1040486113-!>
<!-Text-!> looks like a lot of carnage but a lot of fun,not sure about the pygmy bike event though! <!-/Text-!>
<!-/Post: 18061-!> <!-End-!>
---